Eat(Restaurant information)
2st Floor
Akita Sabō Restaurant
A café restaurant with an Asian atmosphere, you can taste dishes made with local ingredients from Akita.
Business Hours

11:00-20:00 (L.O:19:30)
Restaurant Sora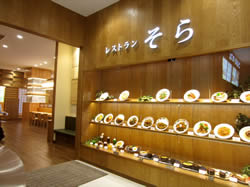 Made with beautiful Akita Cedar, this restaurant will give you peace of mind in this calming space. Here you can enjoy a meal alongside viewing departing and landing airplanes. In addition to a western food menu, we offer "a taste of Akita" with our Hinai chicken and Momobuta pork, Akita specialties.
Business Hours

08:00-20:30(L.O:20:00)
Mugendō
A wide selection of Akita specialties are available in our shopping area. Please feel free to look around and even sample the famous Inaniwa Udon noodles.
Buy(Shop information)
1st Floor
Family Mart Convenience Store
Lunch boxes, refreshments, tobacco and a wide selection of everyday items can be purchased here.
Business Hours

6:00-22:00
2nd Floor
Akita Airport Souvenir Plaza Gift Shop
The souvenir plaza is packed with all of Akita's charms: the nature, culture, and specialties of Akita. Have fun strolling around and making new discoveries in this shopping zone.
Business Hours

6:55-20:20
ANAFESTA
Confectionaries and products distinct to Akita are available here.
Business Hours

6:55-20:20
Duty Free Shops
This duty-free shop is only available to international passengers. It is open for business 1.5 hours before international flight departures. Tobacco, cosmetics and an assortment of other items are available.